A lot of pet insurance companies won't insure cats over a certain age as there's a greater likelihood they will need some kind of medical treatment.
We've created a list of companies that will insure older cats:
Cat insurance companies for older cats
Pet insurance for older cats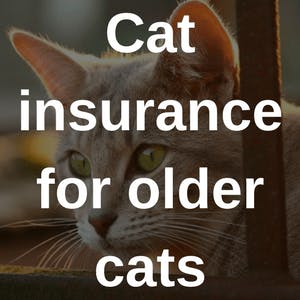 While the age of your cat will influence the price of your premium you will find that compared to dogs, your cat's age won't have the same effect on premiums. Sometimes, policies for older dogs can be several times more expensive than for puppies and dogs under the age of two.
Check out our article on companies offering cheap pet insurance for older dogs.
The premium you pay is still likely to increase as your cat gets older. This can be frustrating but the chance of an insurer having to pay out for a claim does increase after the age of two.
There are some things to remember when you buy older cat insurance. Pet insurance policies generally don't pay out for older cats if they die because of illness or injury. (This is usually when they reach the age of eight or nine or older. It's worth checking your policy.)
Also, not many pet insurance policies offer dental cover that includes illness or disease. This becomes more important as cats get older. Most policies will only cover your pet if its teeth are damaged in an accident.
There are some companies that will offer comprehensive dental cover. Have a look at our article on pet insurance companies offering dental cover for dogs and cats for more information.
You should also consider the excess or co-payment for older cats. When pets reach a certain age some insurers increase the excess or ask customers to pay a percentage of the claim. This is because older pets are more likely to develop medical conditions and the costs associated with them can be higher.
Co-payments range from around 10% to 20% of a claim.
ManyPets pet insurance for older cats
Most of our policies will cover cats of any age, and we even cover some pre-existing conditions - something no other pet insurance company will do.
Our Complete cover is a comprehensive lifetime policy offering £15,000 for vet fees every year, and includes cover for dental problems as standard.
Our Complete policy includes a £99 excess and for cats aged 9 and over you will also have to pay 20% of any claims you make. This is designed to keep premiums down.
We offer a 15% multi pet insurance discount for cats on the same policy (our multi-pet discount is not currently available on our Value 2k policy).
Will ManyPets cover a cat aged 8 or over?
We have a range of pet insurance policies that will cover older cats. In fact, our Regular pet insurance policy comes with a no excess option for pets under nine. So if your cat is eight, you'd be able to take advantage of that option.
Lifetime Pet Cover cat insurance for older cats
Lifetime (or 'yearly limit') insurance covers vet fees up to the stated limit every year. This can be a good option if you worry about your pet developing a long-term or recurring illness. So long as you renew a lifetime policy each year, the level of vet fees will reset to the full stated limits that you started with.
With a lifetime product, it is important to note that your premiums may increase each year at renewal.
The company Lifetime Pet Cover offers pet insurance policies that continue to pay out for ongoing medical conditions that occur after the start of the cover. (These are normally called lifetime policies, hence the company's name.) Dental cover is included in its policies.
Lifetime Pet Cover offers five different levels of vet fees cover: £2,000, £3,000, £4,000, £6,000 and £10,000.
As with most pet insurance for older pets, there is a mandatory contribution the policyholder has to pay for a claim, on top of the excess. Lifetime Pet Cover's excess if £95. If your pet is over the age of seven, you will also have to contribute 20% of the claim, and if your pet is over the age of 12 you will have to contribute 25% of the claim.
With ManyPets lifetime pet insurance policies, your pet turns 9, a fixed excess of £99 plus 20% of each claim will apply.
More Than pet insurance for older cats
More Than can offer pet insurance for elderly cats. It will insure cats of any age, and has four different policy types to choose from:
Accident Only - This policy offers £2,500 for vet fees, but will not cover your pet for any illnesses it may contract, only for accidents.
Basic - This is a time-limited policy, meaning your pet will be covered for an illness it contracts for either 12 months or up to the vet fees limit. Limits for More Than's Basic policy are £1,500 or £3,000.
Classic - Offers either £4,000 or £8,000 vet fees limit, and is a per condition policy, meaning each illness will be covered separately for each condition.
Premier is More Than's lifetime policy, meaning the vet fees limit will reset each year you continue your policy. Premier offers either £4,000 or £12,000 of cover for vet fees.
For pets over 9, you will have to contribute 10% of the cost of a claim, on top of the policy excess of £150. If your pet is under 9, the policy excess is £75.
John lewis Finance pet insurance for old cats
John Lewis Finance only provides lifetime pet insurance policies, meaning your vet fee limit will reset each year you renew. Because of this, its prices for older cats may be more expensive than other insurers'.
John Lewis Finance offers three levels of pet insurance: Essential, which offers up to £3,000 worth of vet fees, Plus, which offers up to £7,500 worth of vet fees, and Premier, which provides up to £12,000 in vet fees.
For pets over 9, you'll have to pay either 20% of a claim or the excess that you chose when you purchased your policy, whichever is greater.
Animal Friends old cat insurance
Animal Friends provides accident only, time-limited and lifetime pet insurance policies. These range from £3,000 annual cover on its Basic time-limited policy all the way to £6,000 vet fees cover on its Prestige lifetime cover.
For older cats, its excess payment is £99 plus a 20% co-payment fee, meaning you pay the excess plus 20% of any claim you make.
Debenhams pet insurance for elderly cats
Debenhams can also insure pets over the age of seven. The company has five policies:
Essential - A time-limited policy with £2,500 vet fees cover
Basic - A lifetime policy with £1,000 of vet fees cover per condition per year
Extra - A lifetime policy with £3,500 vet fees cover
Elite - Also a lifetime policy, but with £8,500 of vet fees cover
The excess on policies is £85. If your cat is aged over seven, you may have to pay 10% of the claim on top of this excess.
Argos pet insurance for senior cats
Argos offers pet insurance for older cats. The company's Silver and Gold policies are both time-limited cat insurance policies, with vet fees cover of £2,500 and £4,000 respectively. Its Platinum cover is lifetime pet insurance cover, with a vet fees limit of £7,000.
The excess on Argos's pet insurance policy is £65. You can also add a voluntary excess of £25, £50 or £100 to bring down the price of the premium.
Pet insurance for older cats with pre-existing conditions
If you have an older cat that has a pre-existing condition, you might struggle to find a policy that will cover that condition.
Insurers have different definitions of pre-existing conditions. In some cases, it could be anything your pet has previously suffered with. It is important to read the policy documents to understand what each insurer defines as a pre-existing condition.
If your cat is seen to have a pre-existing condition by an insurer any vet fees incurred as a result of that condition won't be covered.
We are the only pet insurer on the market that offers to cover pre-existing conditions as long as your pet hasn't had any treatment or advice for that condition in the three months before the start of your policy. And all our policies cover conditions that ended at least two years ago.
You can learn more about our Pre-existing pet insurance policy here.