Why our cover is different
We created our pet insurance from scratch to give pet owners the policies they deserve.
Simple claims
Claim online with no paper forms. We'll update you on its progress.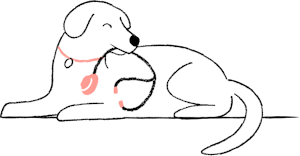 Quality cover
All policies cover conditions that ended two years ago and one policy can cover more recent conditions.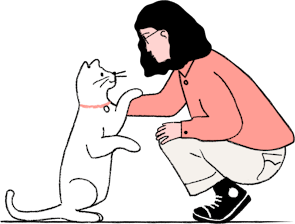 24/7 video vet app
Unlimited free vet video calls through FirstVet.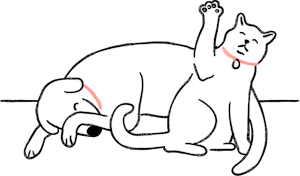 No hidden fees
No cancellation fees and you can pay monthly at no extra cost.
What is multi-pet insurance?
Multi-pet insurance is usually exactly the same as a normal pet insurance policy but it offers a discount if you insure more than one pet with the same company.
Each pet insurance provider offers their own discounts and they work in slightly different ways depending on the provider.
The most common multi-pet discount is a percentage saving on your premium and ManyPets' 15% discount for pets on the same policy is the biggest in the UK.
Other companies might offer a set amount per pet per year, regardless of how much your policy costs.
Most companies offer the discount for any combination of cats and dogs insured with them.

The service they provide is brillliaaant!
The reviews were great and the cover was better than any other i could find. We've used the policy for the video vet call when Shirley had a lump on the back of her neck, it was so quick and easy.
Which policies have a multi-pet discount?
All of our policies apart from Value 2k offer a multi-pet discount if you insure more than one pet on the same policy. You can compare some of our most popular policies below.
Complete
Regular
Pre-existing
Value
Policy details
Vet fee cover
£15,000
£7,000
£7,000
£3,000
Dental cover
Accidents and illness
Accidents only
Accidents only
Accidents only
Pre-existing conditions cover

Cover for conditions that ended 2 years ago

Cover for conditions that ended 2 years ago

£500 (year 1)
£1,000 (year 2)

Cover for conditions that ended 2 years ago

FirstVet - online vet video calls
Pet house sitter membership
£99/yr


free

£99/yr


free

£99/yr


free

£99/yr


free
How our multi-pet insurance works
We know that costs add up when you own more than one pet so we created the biggest multi-pet discount in the UK to help you save money.
If you insure more than one pet on one of our policies we'll give you a 15% discount for all pets that applies every year you renew. Our multi-pet discount is not currently available on our Value 2k policy.
You can add a pet at any time to receive the discount, they just need to be on the same policy to qualify.
For example, a cat and dog both on a Regular policy will receive the discount but if you have a cat on our Value policy and a dog on our Regular policy we can't offer it.
We've made it cheaper for you to insure multiple pets on the same policy.
ManyPets Reviews
We publish all our policy and claims reviews on our Feefo page. Here are some of the thousands of 5-star ratings.
---
"Honest"
I would certainly recommend this company, simple claims procedure and understandable policy and helpful staff.
---
"Glad I changed insurer"
Excellent service! Very helpful when I called with a query and then very prompt settlement of my claim.
---
"Perfection"
This is by far the best pet insurance company I've used to date. Claims are processed quickly and any queries are dealt with promptly. I find the premiums reasonable and shall continue to use them for my perfect little pet.
---
"Fantastic pet insurance"
I've had to make multiple claims in a short space of time and each time it has been so easy to do, no stress at all, when your pet is unwell that is enough of a worry so I'm glad they make the claim process so easy.
How to choose the best multi-pet insurance
Multi-pet discounts vary from one insurer to another but are usually between 5-15%. Here's how some of the top multi-pet insurance discounts compare in February 2022:
ManyPets – 15% discount for pets on the same policy
Direct Line – 12.5% discount
More Than – 10% discount
Pet-Insurance.co.uk – 10% discount
Scratch & Patch – 10% discount
Churchill – 10% discount
LV= – 10% discount
M&S Insurance – 5% discount
Agria – 5%
PetPlan – £12 per pet per year
Sainsbury's – £1 per pet per month
But there's a lot more to choosing the best multi-pet policy policy than just looking for the biggest discount. You need to choose a policy that has the right cover and features for all the pets in your household.
All our policies let you make unlimited free video calls to a vet at any time of the day or night and unlike most insurers we'll cover previous conditions that ended more than two years ago. Plus we have a Pre-existing Conditions Policy for pets that have been unwell more recently.
Our Complete policy includes up to £15,000 vet fees a year and dental illness cover. If you add the MoneyBack option we'll give back 20% of your policy in 12 months time if you don't need to make a claim.
We want you to be able to choose the right policy for all your pets – get a quote to see what we can offer you.
Expert pet care and insurance guides
Our library of articles can help you with everything from understanding lifetime cover to feeding a raw diet.
Frequently Asked Questions
We answer the most common questions about multi-pet insurance.
If I claim for one pet does it affect the renewal fee of other pets on the policy?
No. Even though pets are insured on the same policy and the multi-pet discount is applied to all of them, they have their own cover limits and premiums.
Is multi-pet insurance cheaper than separate policies?
Our multi-pet discount can make it cheaper to insure more than one pet on the same policy. It's important to choose the right policy for your and your pets' needs. Some owners might decide to choose different policies for multiple pets even though we aren't able to offer a discount in this case.
Can you get multi-dog insurance?
Yes, we cover both dogs and cats with our multi-pet policies.
What is the claims process?
We've made it easy to claim online for any of your pets. You just go to My Account and choose the pet you want to make a claim for. We need a few basic details like who your vet is and what you're claiming for and we'll do the rest. You'll be able to track the progress of your claim in My Account. You can also call us to make a claim if you need to. Find out more about how to claim.
What is covered by a multi-pet policy?
A multi-pet policy covers the same things as a normal pet insurance policy. The main part of the policy is cover for vet fees to treat your pet for an accident or illness. All our policies also give you free vet video calls, 24/7. Pet insurance won't cover things like routine procedures, vaccinations or grooming.