Our lifetime policies offer more than others
Here's what makes our pet insurance stand out from the pack...
Simple claims
Make your claim online and we'll do the rest.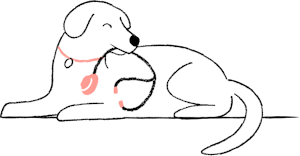 Outstanding lifetime policies
Our Complete policy has £15,000 of vet fee cover, and includes dental illness and theft cover.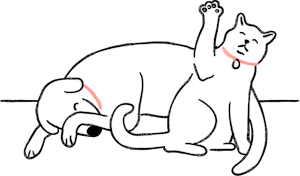 Fair prices
No cancellation fees and and one excess per policy year, not per claim.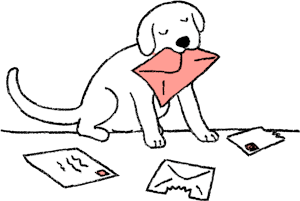 No hidden fees
Pay monthly at no extra cost to make an annual lifetime policy for your dog or cat more affordable.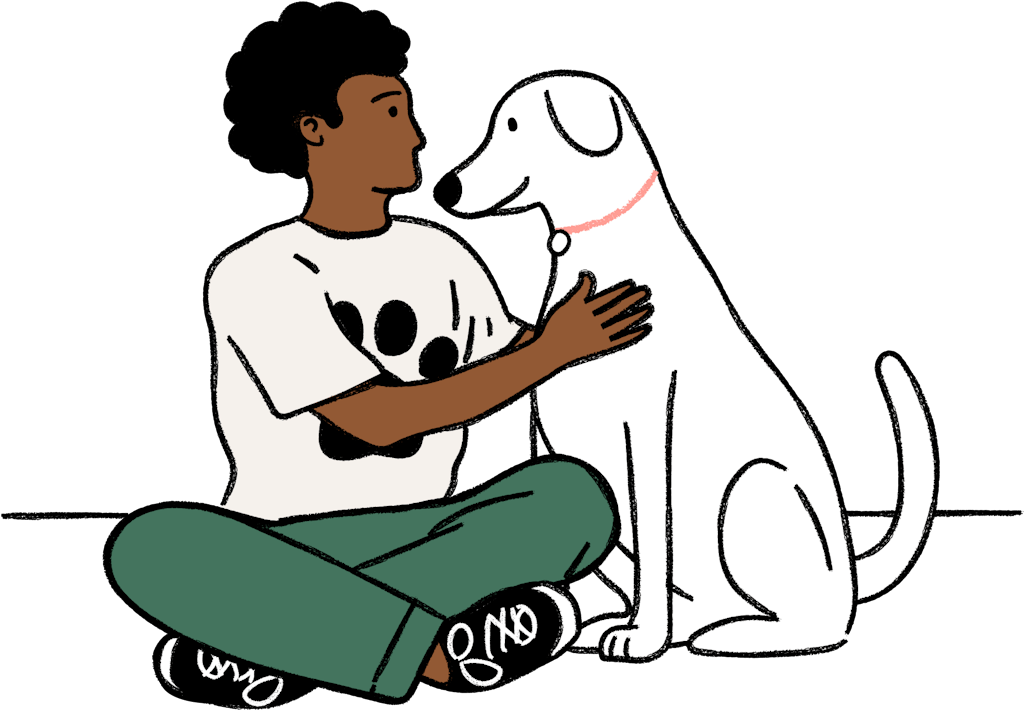 What's lifetime pet insurance?
'Lifetime' is a term used by some providers to describe how the vet fee limits works on their pet insurance policies. Not all pet insurance providers use it - some use terms like 'annual limit' instead to mean the same thing.
Lifetime cover doesn't mean the price stays the same over your pet's lifetime - the price of your policy can still change each year. It just means there's no time limit on how long you can claim for a condition.
So once you have the policy, as long as you keep renewing it and don't cancel, it can pay your cat or dog's vet fees for conditions that develop year after year - or for the lifetime of your pet (which is where the term comes from).
Here's how our easy-to-understand lifetime policies with an annual limit work:
You have an annual limit for vet fees - that can be as much as £15,000 with our Complete policy.
If your pet falls ill or is injured and you need to make a claim, the cost of your claim will be taken from this annual limit. You can make as many claims as you need up to that limit during your policy year.
When you renew your policy for another year, your annual vet fee limit will be refreshed so you have the full amount to claim from again. So with our Complete policy that means you could claim up to £15,000 in vet fees each and every year.
What does lifetime pet insurance cover?
Depending on the policy you choose, we can cover:
Vet fees up to an annual limit, with no limits on each condition.
Free 24/7 free vet video calls with FirstVet - which won't affect your vet fee limit.
Pre-existing conditions all policies cover conditions that ended two years ago - and we have a policy that covers more recent issues.
Dental treatment for accidents on all policies as part of your annual vet fee limit. Dental illness is also covered by our Complete policy.
Immediate cover if you switch to us straight from another pet insurance provider.
Complementary treatments like hydrotherapy, up to a limit given in your policy that's part of your overall vet fee limit.
Behavioural treatment if referred by a vet as part of your vet fee limit.
Legal action against your pet (dogs only).
Advertising and reward costs if your pet's lost or stolen included as standard on Complete and as an option for other policies.
Saying goodbye - a contribution towards the cost of putting your pet to sleep and their cremation or burial.
But not everything's covered by pet insurance. We can't cover:
Pre-existing conditions that your vet has given treatment, medication or advice for in the last two years - unless you choose our pre-existing condition policy.
Spaying, neutering and vaccination - we don't cover routine treatment but you need to keep on top of vaccinations and check-ups to keep your insurance valid.
Immediate vet fees - for illness in the first two weeks of your policy or accidents in the first 48 hours, unless you're switching from another provider with no gap in your cover.
Why should you choose ManyPets' lifetime cover?
All ManyPets policies have an annual limit that refreshes each year when you renew. We believe this is best for pets and pet parents because we don't want your cover to run out during your cat or dog's lifetime.
We want our policies to be easy to understand, so our annual limit policies have just one total vet fee limit that refreshes each year. Some other companies impose a separate, lower limit on how much you can claim for each condition within the annual limit - we don't.
We also don't do time-limited policies that stop paying out for a condition 12 months after you claim, or maximum benefit and per condition policies that impose a limit for each condition.
And our Complete policy has an exceptional level of cover, with £15,000 of vet fee cover, dental cover for accidents and illnesses, 24/7 free FirstVet consultations and more.
ManyPets Reviews
We publish all our policy and claim reviews on our Feefo page. Here are some of the thousands of five-star ratings for our lifetime policies.
---
"Excellent customer service."
Really great customer service, supportive and empathetic to our dog's broken leg. Really would recommend, and think we're set with ManyPets for life.
---
"Great Products"
Easy service, better value than most pet insurance. Quick and easy to set up terms and conditions easy to understand and tell the difference between different policies
---
"Hassle free claims settlement"
ManyPets are very easy to deal with. My claim was submitted online, I uploaded my receipts and it was paid about a week later in full. An excellent service.
Is lifetime pet insurance the best cover?
A lot of pet parents find lifetime cover gives them more peace of mind than other types of pet insurance because it covers future treatment for conditions, year after year, as long as they keep renewing.
We tend to agree. Pet insurance with an annual limit lets you enjoy your time with your pet without the worry of your cover running out.
Here's how our award-winning policies compare with other types of pet insurance:
Our annual lifetime pet insurance versus annual lifetime pet insurance with a limit per condition:
Not all lifetime pet insurance is the same. Some other providers have two types of limit: an overall annual limit for all claims, plus a separate lower limit that caps how much you can claim for each condition.
For example, the overall limit might be £6,000 each year, but the condition limit could be £2,000. So if your dog suffered from cancer and a skin condition in the same policy year, you'd only be able to claim up to £2,000 for each of those conditions, even if treatment still came to less than £6,000 in total.
At ManyPets we want our policies to be easy to understand. So there's just a single claim limit for all conditions - this means you only have to think about the total amount of cover you have each year.
Our annual limit pet insurance versus time-limited pet insurance:
If you're comparing pet insurance by price, you may find some of the cheaper policies are time-limited or 12-month policies. They often allow you to claim for each condition for just 12 months, even if you keep renewing your policy.
At ManyPets we don't do time-limited policies because we want you to be able to claim for a condition year after year, even if your pet develops long-term conditions like Cushings disease or diabetes.
Our pet insurance versus maximum benefit policies:
A maximum benefit policy has a vet fee limit that's capped for each condition, for your pet's entire life. Once the cap has been reached, you can't make any more claims because the limit doesn't refresh when you renew your policy.
A maximum benefit policy with a £3,000 limit per condition would let you claim up to £3,000-worth of veterinary treatment, regardless of the length of time it took to reach this total.
The problem is, a maximum benefit limit could easily be used up, especially if your pet needs costly surgery and ongoing treatment.
For example, if your cat had a tumour removed, and you claimed £2,000 for the operation and aftercare, that would only leave £1,000 that you could claim for ongoing chemotherapy and medication for the rest of her life.  Then you'd have to pay for any more treatment yourself (although you could still claim up to the per condition limit for other injuries and illnesses).
We hope your pet will have a long, happy life, which is why our policies have an annual limit that resets every year you renew.
Frequently asked questions
Everything else you need to know about our lifetime policies.
Will the price go up as my dog or cat gets older?
Lifetime pet insurance doesn't mean the price is fixed for the life of your pet. But we're determined to provide exceptional cover at a fair price.
Insurance premiums can change each year, but they're likely to increase when your pet gets older. Pets are more likely to need vet treatment as they age, so the price of your insurance reflects this.
Why is lifetime pet insurance more expensive?
Lifetime pet insurance can be more expensive than time-limited policies because you can keep on claiming for the same condition year after year. And your vet fee limit refreshes at each renewal, so you'll be able to keep seeing the vet for ongoing  and new conditions. 
A time-limited policy might be cheaper, but each condition gets excluded 12 months after it first showed symptoms or when you made the claim - so it's not so good for long-term health problems.
What happens if I cancel my cover?
You can cancel your ManyPets pet insurance at any time at no cost. Just check how any conditions you've claimed for with us will be handled by your new provider. They'll often be excluded from cover because a new company will class them as pre-existing conditions.
The good news is, if you switch to us from another provider we can cover pre-existing conditions that ended more than two years ago and our pre-existing policy can cover more recent ones.
How does my excess work with lifetime cover?
Most of our policies have an excess, which is an amount you contribute towards the cost of claims.
Lots of insurers charge an excess for each new condition your pet develops, but we charge just one excess for each policy year you claim in, no matter how many conditions you need to claim for.
We also have the option of no excess on our Regular policy if your pet's under the age of nine.
We design our policies to cover your pet's entire lifetime, which is why we ask for a 20% co-payment towards each claim once your pet's nine years old. 
This means that you'll contribute 20% of the cost of a claim, as well as your policy excess.
Co-payments help to keep the cost of your premiums down, so we also give you the option of a co-payment before your pet turns nine, in return for cheaper premiums.
Is lifetime pet insurance worth the cost?
Whether pet insurance is worth it or not will depend on your personal circumstances but we believe a policy with an annual limit is good value.
Because our cover limit renews every year, it'll cover ongoing problems your pet develops as well as short -term illness, so it'll cover vet fees now and in years to come.
We believe that peace of mind's worth it, which is why we only offer policies with an annual limit.
Read our guides written by our pet and vet experts
Find out more about insurance, health and costs, for your pet's whole lifetime.