There are thousands of cats and kittens across the country waiting to be adopted. Although a pet brings a lot of love into your home, prospective owners should be aware that it's a big decision.
To help, we spoke to some of the pet owners and experts at ManyPets to hear their experience.
We had a chat with Sarah Dawson, former vet nurse and our Vet Relationship and Technical Claims Manager who specialises in feline welfare and behaviour.
We also heard from Charlotte Halkett our Chief Commercial Officer who has a black cat called Wilbur and our Officer Manager, Jen Bridlow, owner of a 14-year-old tuxedo Moggie called Sparky.
How to adopt a cat
To adopt a cat you will need to contact your nearest animal rehoming centre. Animal welfare charities such as the RSPCA, Blue Cross or Cats Protection have rehoming centres across the country.
Due to the current Covid 19 crisis, the process for contacting and arranging an adoption is likely to be different to how it would be under normal circumstances.
Visit the centre or charity's website to view their cat profiles and learn more about the needs of each cat and whether they are a good match for you.
Alternatively, you can always give your local adoption centre a phone call so they can learn about your circumstances and the type of cat or kitten that will be suitable for you.
Each charity or rehoming centre will have its own adoption process you will need to follow. However, you'll find that many will be fairly similar.
Larger animal charities such as the RSPCA or Cats Protection will ask you to complete an application form when first applying for adoption. Other rehoming centres may ask that you call your nearest branch or send an email when beginning the adoption process.
Meeting your pet for the first time
Once your initial application has been approved and background checks carried out. You will have the chance to meet your new pet.
How your first meeting takes place will again depend on the rehoming centre you are dealing with. Due to current Covid 19 restrictions, you may be required to take part in a video call to view your pet but normally you can expect to be invited to the rehoming centre for your first meeting.
Charities like the RSPCA also arrange home visits before you take your cat home and you should check with the rehoming centre whether this is part of the adoption process.
A home visit can be helpful for new pet owners as staff from the rehoming centre can provide tips and advice on caring for your cat at home.
Paying adoption fees
Most major animal welfare charities will charge a fee for adoption. This includes the likes of the RSPCA, Blue Cross and Cats Protection. Smaller charities may not charge a fee but you should check with the rehoming centre during your initial enquiry.
Adoption fees help pay for the care of animals during their time spent at a rehoming centre. This will include any veterinary treatment, neutering and microchipping.
When you adopt from many of the large animal charities you will find that your pet will come already spayed, snipped, vaccinated and microchipped.
Why do cats need rehoming?
Most pets that need rehoming will be older animals but you can still adopt kittens and younger cats.
If you choose to adopt an older cat, you should remember that they will come with a fully formed personality, character and a history that's unique to them. The benefit of adopting older cats are that they are often already house trained and may require less attention than kittens.
There are lots of different reasons why animals need to be rehomed. A change in somone's circumstances such as a relationship break-up or moving to a new house can mean that a cat will need to find a new home.
Sometimes an owner may discover too late that their cat is pregnant and that the resulting kittens will need to be rehomed as they cannot look after them.
When choosing a cat you can always speak with staff at the rehoming centre who can tell you more about how and why your cat was put up for adoption.
What to know before adopting a cat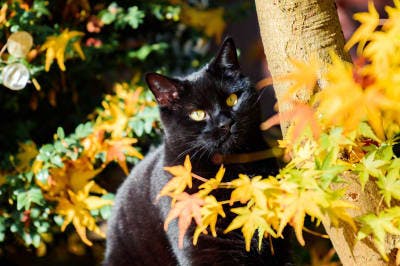 Charlotte Halkett our Chief Commercial Officer, Jen Bridlow from our people team and Sarah Dawson our Vet Relationship Manager, discuss their tips and advice on what you should know when thinking about adopting cat or kitten.
Jen:
"Make sure you meet with the cat first so they can get used to you. If you're getting a kitten, they WILL scratch everything, so be prepared."
Sarah:
"I would always recommend looking at older cats as well as kittens to see which may best fit in with your lifestyle.
Kittens are more inquisitive, playful and go through lots of behavioural changes as they grow and develop, meaning their personalities can change a lot as they approach adulthood.
With older cats, often what you see is what you get, their characteristics and behaviours will remain the same throughout adulthood."
Charlotte:
"Definitely worth considering rehoming an adult cat - because you will know their personality and cats live a long time! If you live anywhere near a busy road - consider an indoor cat."
What cat breed should I choose?
Sarah:
"Research is key. You need to understand the needs of cats and how different species have different personalities.
Siamese cats can be very vocal, Persians need lots of grooming to maintain their coats and Bengals can be quite needy."
Charlotte:
"I agree with Sarah. Consider breed characteristics and your family dynamic (if you're getting a pedigree) - they vary a lot. If you're getting a kitten, you should really check their background to check health and socialisation in advance."
Jen:
"Your family dynamic is important. You wouldn't want a cat that is scared of kids if you have little ones running round the house."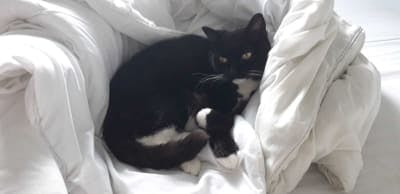 Sarah:
"Cats are naturally solitary creatures and enjoy their own company, although there are always exceptions. Territory is the most important thing to our cats and naturally, their territory can span up to 25 miles.
In today's society with houses being closer togther, more neigbourhood cats and outside access not always being possible (for example living in a block of flats) this can have an impact on our cats' physical and mental wellbeing."
Bringing a new cat home
Sarah:
"Allow your cat or kitten to explore their new home in their own time. Let them approach you and give them a private area with everything they need such as food, water and litter box and allow them to explore in their own time.
Allowing your cat to approach you and learn what they enjoy and what they do not. Most cats do not enjoy being handled too much, especially as they are still learning what is safe and what isn't in their new homes.
As they gain confidence they will explore more and interact as they checkout their new home."
Jen:
"Use Feliway when they first come home so the place smells inviting.
Have lots of places for them to hide or climb up high. Don't put their water bowl next to their food bowl (they like to eat and drink in different places)."
Sarah:
"Pheremone products can make a big difference settling your cat into their new home, I would highly recommend a Feliway Diffuser."
Charlotte:
"Cats are incredibly territorial - this means that a new home will probably completely throw them off their game for a good while. Just be patient."
How much attention do cats and kittens require?
Sarah:
"As cats are natural hunters, it's important to invest in interactive toys and to make time to play the occasional hunting game with them. This can include encouraging them to chase a piece of string.
Artifical plants and grass can be purchased with an aray of climbing and scratch posts to give them that outdoor feel indoors.
You can also find apps and DVDs dedicated to cats that will make a huge difference."
Where can I find more advice on cats?
Sarah:
"Websites such as icatcare.org have fantastic sections for new cat owners weather you choose a kitten or adult cat and a great section on introducing your cat to existing pets in the home."
How much does it cost to own a cat?
Adopting a cat is a long-term financial commitment and you should consider the cost over the lifetime of looking after a cat. The vet charity PDSA estimates that it will cost owners at least £12,000 to care of a cat during their lifetime.
The biggest cost to take into account will be veterinary bills and those bills that are planned: such as vaccinations, flea and worming treatments.
If your cat develops a health problem, the medical costs can in some cases be very expensive and pet owners may need insurance to help cover these cost.
If you're unsure whether pet insurance is worth it, you should consider the total amount you may have to pay towards any unexpected vet bill that occur during the life of your cat and whether insurance is likely to save you money.
Cat insurance is usually cheaper than dog insurance, but it all depends on the age, breed and health of your cat.